It's easiest to leave "the way of doing something" up to us, giving us full responsibility for the results. From here, we shall accelerate the Inspiart project in an instant
EYS-STYLE (hereinafter referred to as EYS) has launched a new project: Inspiart. We are searching for engineers to develop and rapidly advance this project which utilizes the most advanced IT technology, blockchain and machine learning. Why did we chose EYS?
We spoke to CSO and director of Inspiart project Yuichiro Kuzuryu, manager of blockchain and the Mongolia office Kenji Otsuka and machine learning development manager and R&D engineer Hyon Kim about the merits of working at EYS.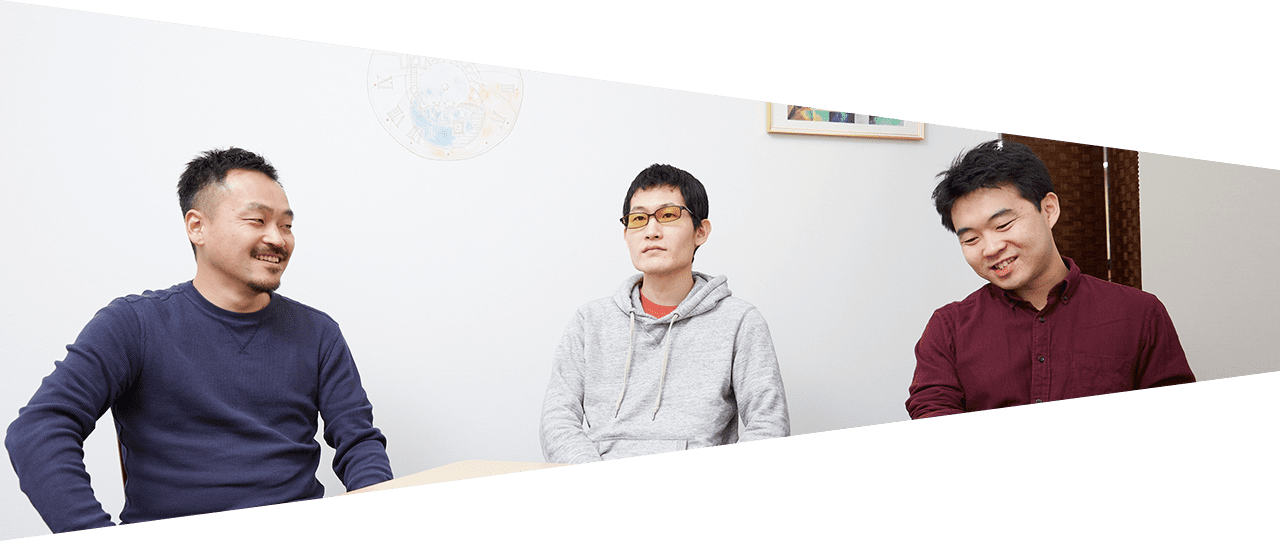 Output is important.
The process is left to us.
First, lets speak about how each of you came to work at EYS. Kenji has been working here the longest, so let's start with you?
The starting point was when I happened upon a job advert for EYS. In around 2012, I was working for Sler in Osaka but I wanted to try web development. Most of the jobs seemed to be in Tokyo so I came to the capital. I attended a number of interviews and then decided on EYS.
Me too, I also chanced upon a job advert for EYS. I returned to Japan after working in Singapore for around 6 years and was searching for a job related to "AI and sound". I found EYS and applied. In fact, I had actually received an offer from another company very quickly and had already decided to work there. However after a year or so, I was contacted by EYS company director Yoshioka and since the conditions seemed better here, I decided to switch to EYS.
Ah, you were contacted by Mr Yoshioka. Me too, I first met Yoshioka about 4 or 5 years ago when I was working for a start up in the US, and he said to me "I want to create a base in Silicon Valley". Since then, we met up around once a year to go for dinner and when about a year ago I decided to quit the company I worked for at the time, Yoshioka said "let's work together". From the point of view of a company, securing human resources through personal invitations could be a big problem but on the other hand, inviting those you've known for a long time and who you have a mutually understanding with is a really great process. Kenji, you left EYS for a year and then returned - what are the good points of working at EYS?
From the viewpoint of an engineer, the coding machines are great. Also, Yoshioka comes from consulting so I think he searches for people who's way of thinking interests him and for those who want to work exploring various ideas.
It certainly is a merit that you can work closely with the company director. In a large company, you don't get to meet the boss at first. I think it's interesting that you can see what the boss is thinking and doing when in close contact. What's more, it often feels like your individual needs and circumstances are respected. When employing an engineer, there are various important factors including technical aspects and so on to consider, but personal circumstances are not usually included in these important factors are they? It's a no-go if companies and management don't recognize this but fortunately that doesn't happen at EYS. I think it's because you can speak face-to-face with the director.
Yoshioka supported me when I said I wanted to work whilst completing my PhD. I also thought it might be good if someone else could write about our company's work in their thesis. It is really easy to work with Yoshioka; regards machine learning, overall he leaves the project to us and lets us do the skilled work in our own preferred ways. The engineers here are actually busy writing code, even right now so the flow of work is very smooth. Of course, we are always seeking a preferred output, but it is rewarding to feel that responsibility.
As long as you are aiming towards the shared goal or desired output, the process of working is left to you. It makes you feel that you can work pretty freely.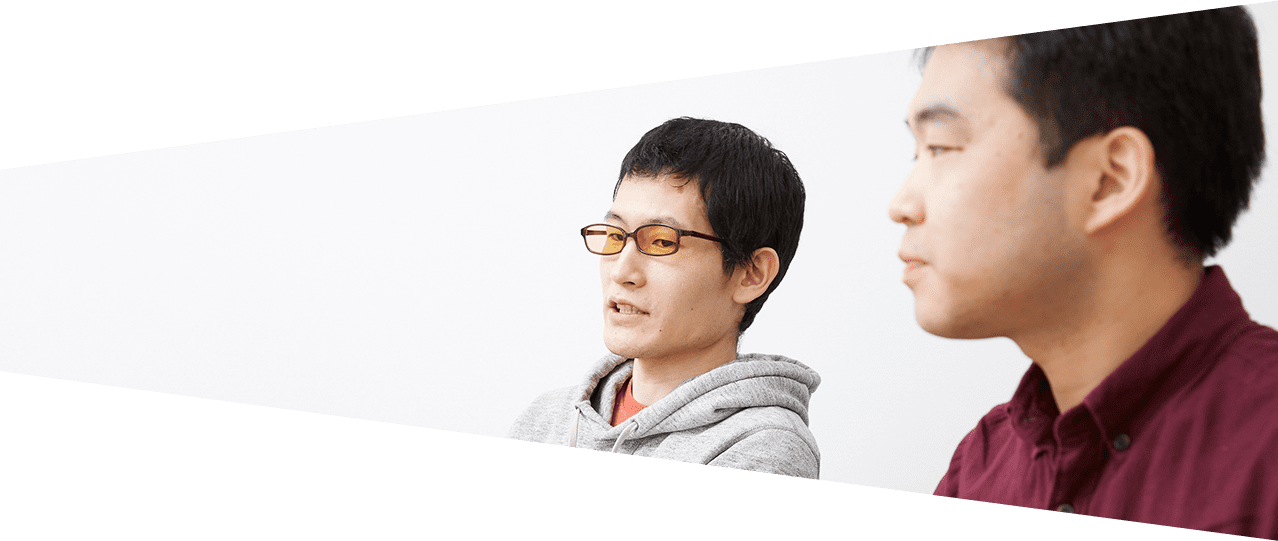 China, Belarus, Mongolia, Estonia,
the vector is always aimed worldwide
I really enjoy working on the Inspiart project, and I'm not particularly about our partners being Japanese or not. This company does seem to have an international focus. It doesn't feel like this company will collapse due to the shrinking Japanese economy, which I personally find very comforting.
Yes, if you were only thinking about supporting the current staff of EYS, I think it wouldn't matter if you only paid attention to the Japanese market, but it's interesting that isn't seen as satisfactory (by Yoshioka). It really is a merit that EYS aims outwards and the direction of the vector is so powerful. It would be a big problem if only Japanese engineers were thought to be excellent and Japan is only one country, on the very edge of the world map. Therefore, to develop the business and recruitment we have to think globally, something which EYS quickly came to understand.
There is no Japanese person currently in the AI team. I am not ethnically Japanese and my fellow team members are from China and Belarus. We don't have a preferred nationality for our team members and as long as you can speak English there is no problem. It doesn't matter how you look at it, the latest technological advancements are written about in English so I think it would be really difficult for someone to keep up-to-date if they didn't understand English. Furthermore, we are in partnership with a machine learning research centre in Mongolia, meaning English is necessary.
That's true. We already have an EYS development team based in Mongolia and it would lead to interesting results if we can develop partnerships with other research centres too and nurture good communication between them. Including Estonia.
Ah yes, we recently made a business trip to Estonia. Many years ago the country launched the e-residency program, making it easy for people to enter overseas companies. So we travelled to Estonia to see if a collaboration would be possible as Estonia is a pretty advanced country when it comes to IT; there are many EU data centres there. I hope that our conversations with the AI, blockchain and UI companies involved continues to move forward.
Yeah but it's so far…..! And we had to meet there. Even though we were all taking the same aeroplane to Estonia, we only had our tickets and ended up boarding one after the other in "adult fashion". But even with just this one move, we felt that if our work stance could be understood and if we could gather together some people on the ground, then it was a good result.
That's true. It is difficult to expect a thorough explanation of their work and training. You do need to have a really firm grounding in what you learnt during your training but it isn't the latest information that is important but rather what is going to happen next. I think someone who enjoys searching for this future information and testing new things through trial and error will have fun. It could be good to contact university lecturers who have written great reports directly for example in order to find someone who has completed relevant work.
By the way, I contacted a researcher not long ago when they were writing their thesis and I received the source code they were actually using in their research.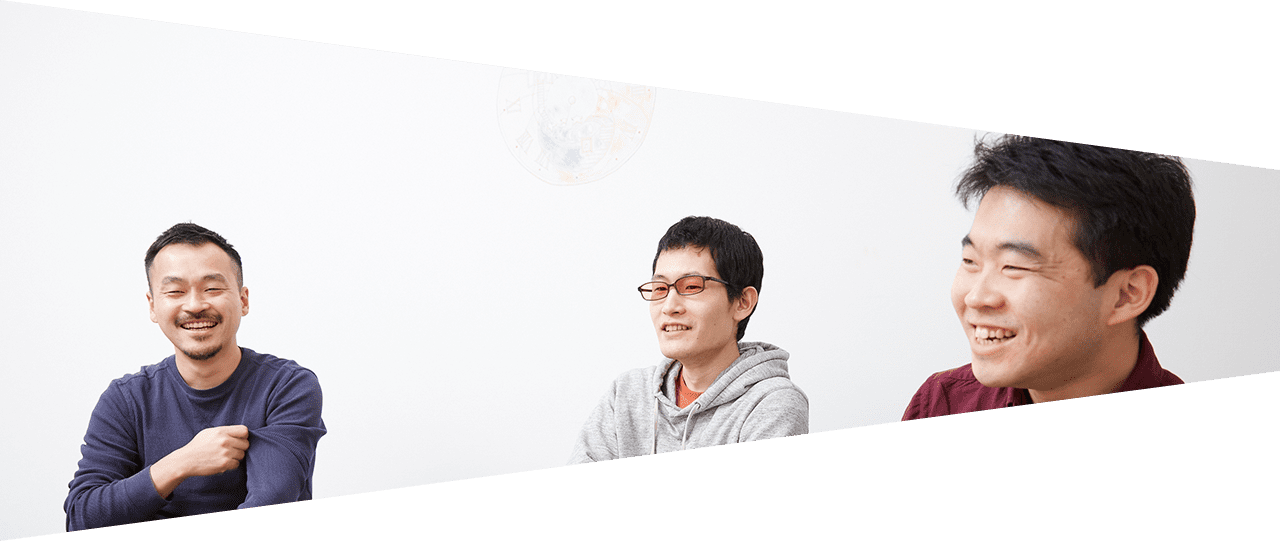 The investigative strength of technology,
will-power and mathematics.
You can call it assertiveness, someone who is able to form their own process by their own means. I think it becomes an incredibly important asset. I think it is also necessary to have will-power and emotional strength. Start-ups and new projects built on the technical skills acquired so far do often fail and collapse. So I think you really have to have a lot of resilience and mental power to succeed. What do you think?
I don't have time to manage the Mongolia office, work on the music teaching business and to develop blockchain within the Inspiart project so I am looking for someone to take over the management of developing blockchain. Someone who can oversee and understand the system design pattern on the whole and can work with blockchain would be ideal, however I haven't been able to find someone yet. But if you were to ask me what kind of person would be suitable, someone who has experience in thoroughly researching anything may be better than someone who is mid-career with shallow knowledge of various topics
For the machine learning team, we need someone with a good grounding in mathematics. A machine learning engineer would be best but a big possibility is to find someone who has worked in applied mathematics, such as someone who has written simulation code say as they would only have to learn the machine learning algorithms as there is simulation involved in machine learning. Or someone who has the ability to thoroughly implement their ideas in a programme would be good. Now, I am able to complete an online course, even just by knowing what I have learnt through coding, so I think it is really important to find someone who has actual experience in creating code.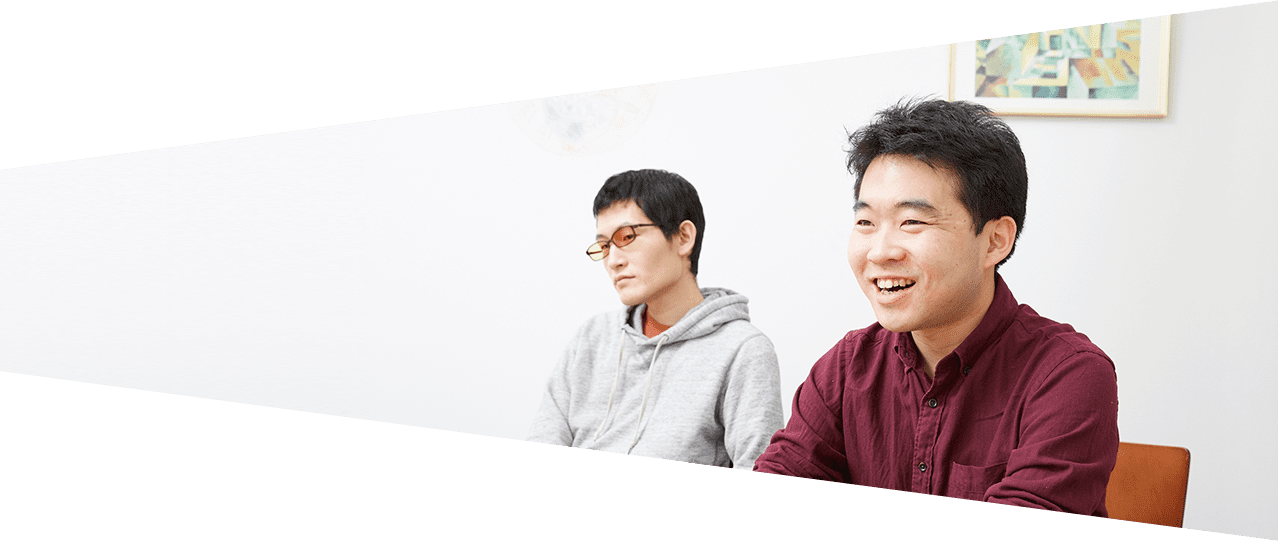 Establishing a "machine learning and sound" business
in a rare environment.
The combination of machine learning and music is incredibly interesting. In machine learning, before entering the algorithm there is a feature extraction phase, however in comparison to speech recognition features, the amount of parameters in music are enormous. Other than features you need knowledge of Digital Signal Processing and depending on what it is you want to try, deciding on what combination of algorithms and categories to use is really down to trial and error. This experimentation is fascinating and it enables you to deepen and broaden your knowledge in mathematics and engineering. I'm really excited to achieve our goal.
There are so many people in the world who enjoy music, myself included. Therefore there must also be many people working in machine learning who love music. However, it is rare to find someone who can actually make money from their work. But EYS can. It's a really rare environment where, as a full member of society, you can fuse the idea that music is fun with your knowledge and skills. For example Hyon, you work on machine learning and you love music but if you were asked to think about the business side of things too, that would be too much right? But as we operate within the framework of a "company", you can leave the business aspects for the business side to handle and sales to the sales team, allowing you to work on what you wish. Surely it helps to be working within a company. EYS is being to think business will be particularly successful in this area. I don't think you will find that environment elsewhere.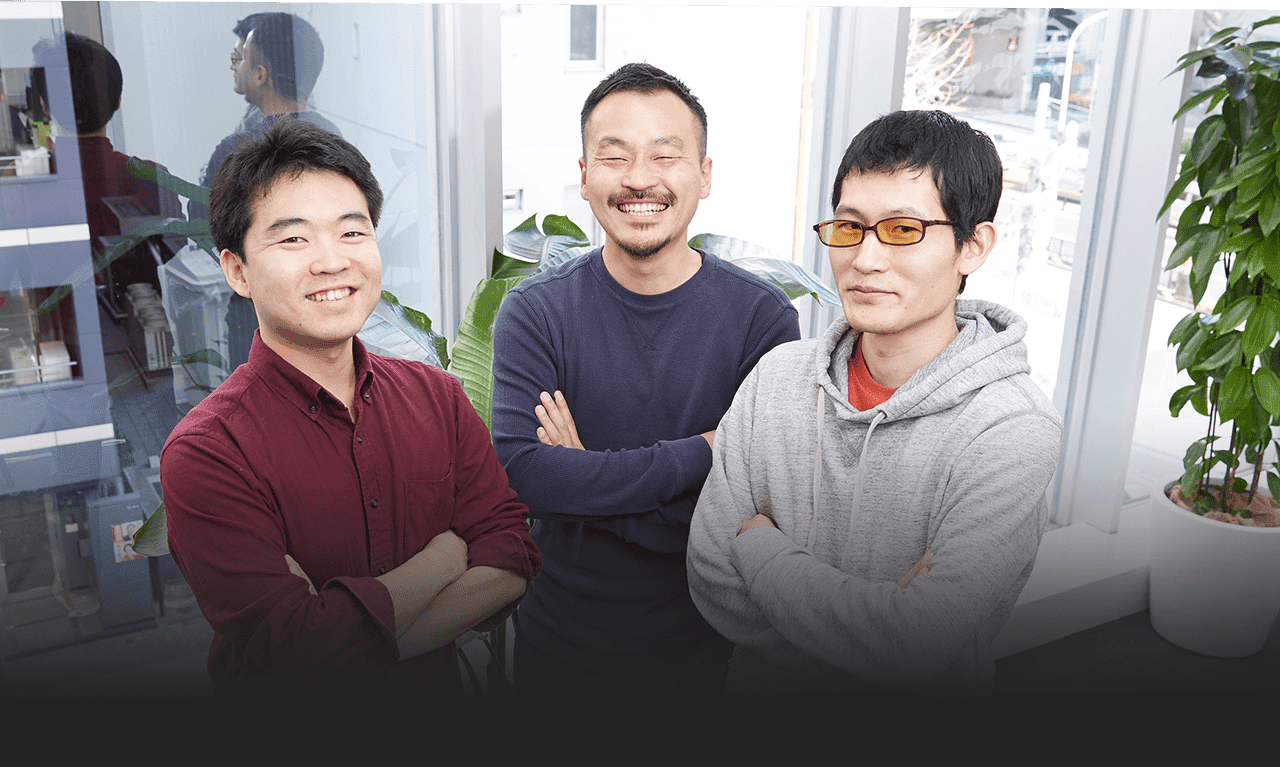 Introducing the leading members of the Inspiart Project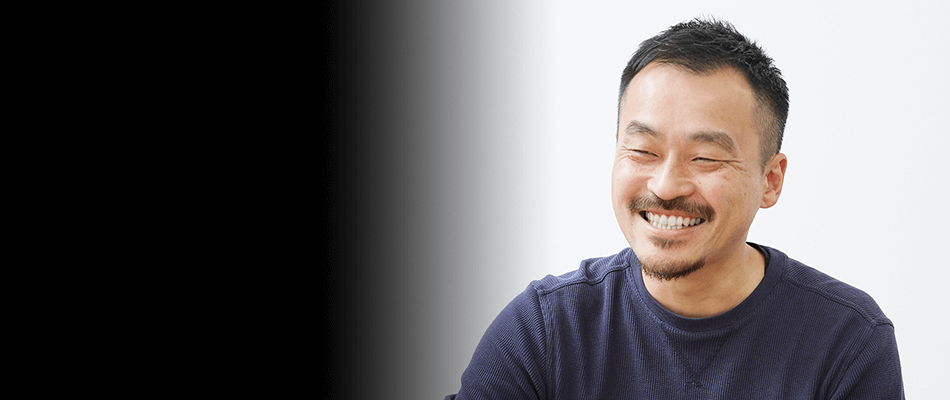 After a successful venture linking a major domestic instrument maker to silicon valley, Yuichiro returned to Japan to participate in a new venture developing devices for nursing care.
He was inaugurated to EYS-STYLE board of directors and became Inspiart corporate HQ chief executive in 2018. At the same time, he started Claytech Co.Ltd, offering consultation services for new and developing businesses, based on his experience of handling all stages of the product process from planning designs to hardware/software development and production.
An interview with Yuichiro